Health calc for Android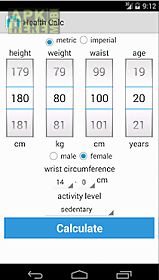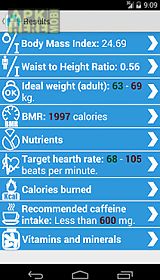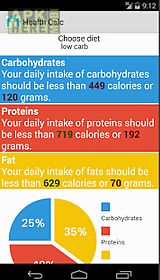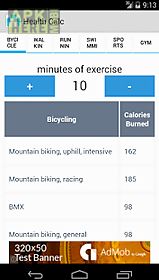 Health calc app for android description: calculate your: bmi (your body mass index) whtr (waist to height ratio) metabolic rate maximum daily carbohydrate protein and fats intake according to the requirements of several diets: low carb ketogenic atkins zone and others.
Target heart rate (thr) training zones ideal weight based on wrist size burned calories caffeine intake recommendation vitamins and minerals daily intake recommendation shows the history of bmi whtr and weight entrieshealth calc helps you manage your weight.
It calculates(bmi) your waist to height ratio and your metabolic rate.
Health calc also tells you your ideal waist circumference and shows the daily caloric intake you need to maintain your weight (or lose weight).
Your gender age and activity level are taken into account in the calculation as well.

Related Apps to Health calc