Proxyplus free for Android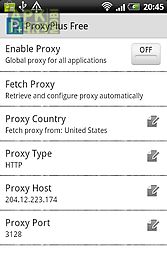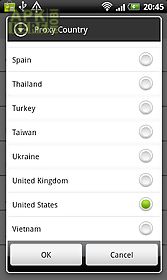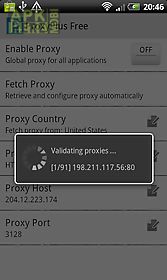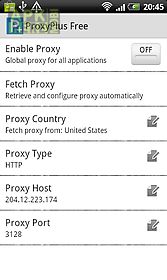 Proxyplus free app for android description: Auto fetch and configure proxies by countries.
It 39 s simple but powerful.
Proxyplus can set up a global proxy for android phone or tablet.
And you can choose proxy countries and automatically fetch a working proxy in one click.
For example when you need surf internet or use apps through a usa proxy just select unite states in proxy country and click fetch proxy.
It then will retrieve and configure a working proxy on the phone.
Requirements get root permission features thousands of daily updated proxies in various countries fetch and validate proxies in one click support http socks4 and socks5 proxy support user authentication low battery and memory consumption easy setup.
Forward all traffic via proxy using iptables no system settings changes required by manual.
Basic usage - select proxy country- fetch proxy- switch enable proxy to on please note: it does not use system proxy settings if configured.
And when enabling proxy plus please disconnect other vpn or proxy applications to avoid impacts.
Contributed with open source project: redsocks transparent socks redirector: .
Ru redsocks for any questions or issues feel free to contact developer by emails.
Thanks.

Related Apps to Proxyplus free