Kitchen scale simulator for Android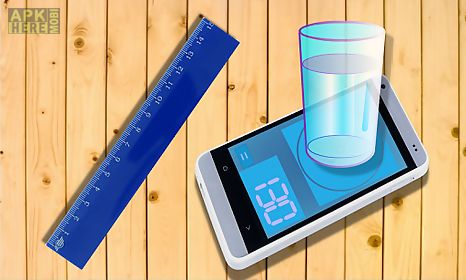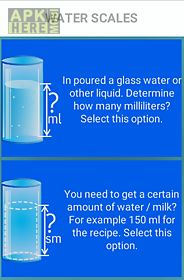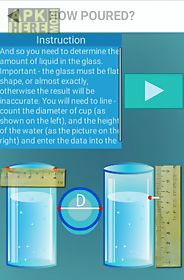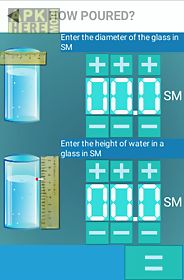 Kitchen scale simulator app for android description: Kitchen scales to measure the weight of water or other liquid in the glass (a bank or a cup).
Scales are a substitute for glass with a scale that shows the water weight in grams.
The screen features a choice of two scales: - in a glass poured water (milk juice and so on).
You need to know the weight of this liquid.
You will need a ruler.
In the program type nozzle diameter and the liquid height in inches.
Based on the mathematical calculation program determines the weight in grams (ml) (with the function of calculating the volume of the cylinder).
- For this recipe you will need to obtain an accurate weight the amount of water (other liquids).
To do this take the flat glass and calculate its diameter line and enter the exact weight you want to get for example 140 grams (ml).
The program considers how many centimeters you need to pour the liquid in the glass to get a desired weight (volume).
If you do not understand the program adds more detailed instructions with illustrations.
Try to make accurate estimates of the ruler to the result!
The program is called simulator for the reason that it is not real weights.
Appendix considers only indirectly by weight based on the mathematical formula by using the data that the user enters.

Related Apps to Kitchen scale simulator