Hair trimmer clipper for Android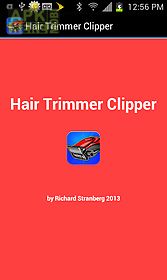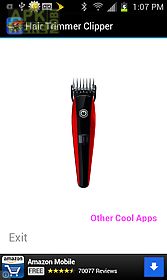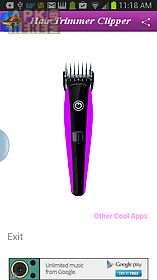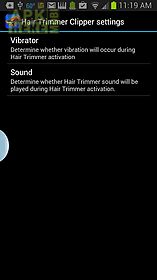 Hair trimmer clipper app for android description: Download the best hair trimmer clipper razor for android now!
Hair trimmer clipper turns your phone into a realistic shaver!
Press the image of the hair clipper in the center of the screen and watch your device transform into a realistic salon style hair clipper electric razor!
And watch the colors change too!
Features: realistic razor sounds recorded from a real shaver!
Razor image color cycles when image is pressed!
Choose razor image color (coming soon!
)How to use: 1) press the razor clipper image in the center of the screen.
The device will start to vibrate and a realistic razor sound will play.
(Make sure the volume is tuned up!
)2) place the device close to your friend 39 s head and then rotate the device.
The device will then play a shaving sound!
3) when you want to stop the device from shaving cutting simply stop pressing the trimmer image.
Prank you friends with this fake head shaver!
About required permissions: internet access network state read phone state write external storage these are used just for ads and for locating the app to the sd card if present.
No personal information is collected.
Vibrate this is used to vibrate the phone when the image is pressed.

Related Apps to Hair trimmer clipper