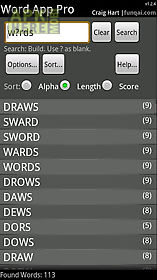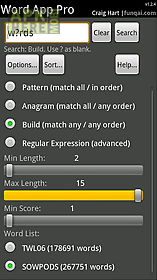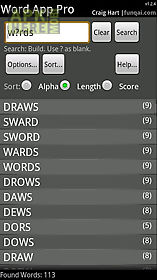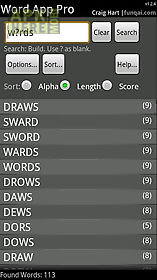 Word app app for android description: Word app is a word generator using the csw15 (new!
) Otcwl 2014 csw12 sowpods or twl06 word lists used in tournament scrabble.
Easily check a word is valid for the selected word list.
Search for words that can be made from entered letters and more with multiple search types.
For scrabble players to crossword solvers.
Pro version available with no ads news and faq at: and wordapp.
Html part of the funqai word family of apps.
Search 39 funqai 39 to find: word game the original android word game!
Word run build a run of words keeping your letters word game 2 sequel to word game with many requested features word game forever no timers or end state word square like a word search in reverse professional word generator helps you explore the word listsall use official scrabble word lists from wespa and naspa.
Faqthese words aren 39 t really words a common word is not included.
There are a great many words in use in the english language and i cannot hope to please everyone as to their definition of what is a word or not.
The dictionaries offered to use are official word lists used in tournament scrabble.
I think if anyone knows whether a word should be in or out of an application like this then it 39 s these guys.
The word wont work in game x.
See above.
It 39 s not up to me to tell other developers which word list to choose.
I think i 39 ve chosen the right ones.
It 39 s not finding any words.
Do you have your search type set correctly for what you are trying to do? Chances are you want the 39 build 39 search type.

Related Apps to Word app