Who becomes rich (trivia quiz) for Android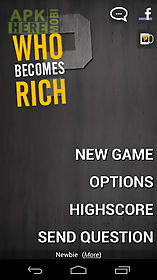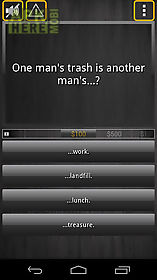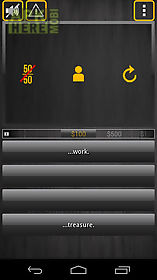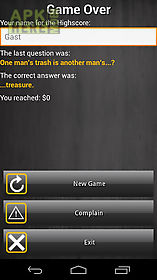 Who becomes rich (trivia quiz) game for android description: who becomes rich is a classical multiplechoice trivia quiz game where you have to answer questions like you know it from tv quizshows.
You can choose between three lifelines.
This is a game that will test your trivial knowledge and education.
You can also compete with your friends over a highscore (maybe one of you can become a millionaire in one of the tv or radio shows).
Your private pub quiz.
We have so far hundereds of questions about topics like: general knowledge sports movies politics geography biology computer science mathematics...
Every player can add questions by simply submitting them via an ingame submitter.
After being reviewed they are going to be added to the database.
We are working on translations to other languages.
If you want to participate don 39 t hesitate to write us an email.
You can use the facebook connection to share scores with friends (howabout a little quizduell? )Like our facebook page: https: whobecomesrichneeded permissions: full network access view network connections: this permission is used to communicate with the user (feedback new questions) as well displaying advertisements.
Read battery statistics: the battery permission is used by our new advertisement network in germany in order to show relevant ads according to the batery status.
We are currently changing to a high quality adnetwork.
In future we want to show less but more relevant ads.

Related Apps to Who becomes rich (trivia quiz)