Text photo collages for Android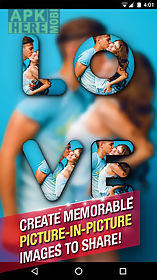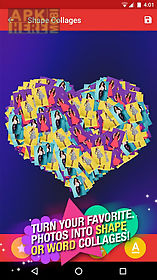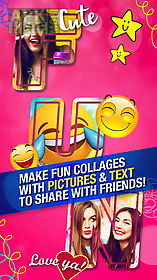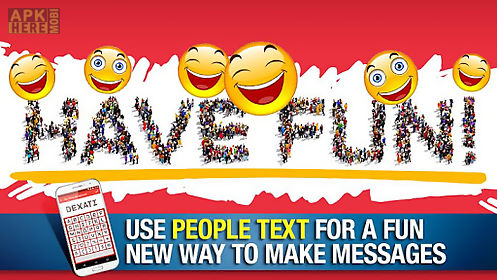 Text photo collages app for android description: Text photo collages helps you create photo collages with text people standing in collages to create picture text shape collages and alphabet pip.
Text photo collages comes with 6 main features: - create text collages with your photos.
Your photos appears in words creating picture in picture effects and creating word collages for your pictures.
Text photo collages lets you add stickers over photos text to your collages draw on photos and more feature to create a solid photo collages made of word collages.
- Shape collages create photos collages in shapes of your choice.
You can create a heart shaped photo collage by selecting any number of photos and we arrange them in heart shape to create and love collage for you.
Shape collages include an number of photo shapes to chose from.
- People text unique feature for text photo collage you create message collages where people are standing in the shape of words or sentences you chose.
Convey messages like i love you in shape of people standing in the shape of messages.
Express your love for someone in unique way.
- Alphabet pip best picture in picture effect with alphabets.
Create a word picture in picture to express yourself.
You can chose any random work or character and we will create text pip to create an awesome picture collage for you.
- 3d photo grids 3d style photo grids with moving grid options to stylize your photo grid collages and create the stunning 3d photo grids with text over the collages to create best collage grids ever.
- Photo mixer collages free form collages in photo mixer style to create stunning collages by mixing photos and texts creating awesome photo mixer collages.
Create best looking photo collages with text and text shapes that can surprise people.

Related Apps to Text photo collages