Stick japanese words for Android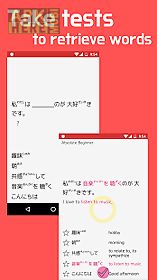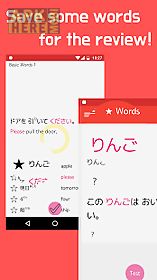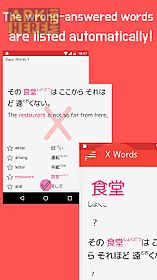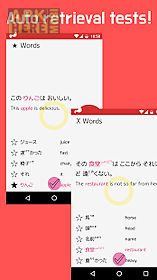 Stick japanese words app for android description: how to stick them: - select a course based on your level.
- Learn japanese words and phrases with sample sentences.
- Take tests to retrieve words in your brain.
- The words you answered wrong will be put in a list automatically and you can review them as much as you want.
- Take tests anywhere anytime with the unlock screen test.
Simple retrieval practice improved results on various tests more than many other educational interventions.
Features all contents are free over 1500 commonly used words and phrases every word with sample sentences many tests: listening speaking writing sentence completion etc.
Simple user interface courses absolute beginner: greetings number family time hobby etc.
Basic words series situational japanese: diet work trip vacation etc....
Tests word listening sentence listening meaning selection word selection word writing word speaking sentence completioncopyright boreumdal lab.
All rights reserved.

Related Apps to Stick japanese words