Songo free chord finder for Android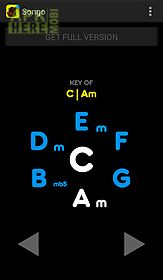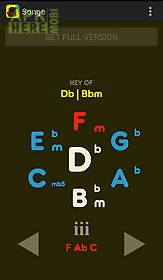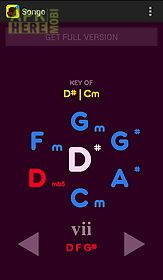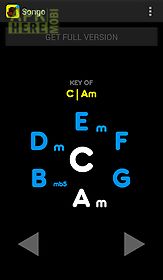 Songo free chord finder app for android description: Not your average chord finder songo is a songwriting and musical education tool that will help you discover chord progressions by grouping chords of the same key together.
Songo is an audible reference tool for all 12 musical keys including chords and scales.
Transpose music or just play around.
No music theory knowledge required.
You will also discover chord progressions to many famous hit songs just by tapping about in songo...
Who would have thought it could be this easy!
Controls in the full version view the notes that make up each chordmm change the current chord from major to minor or vice versam7 add a flattened 7th note to the current chordm7 add a 7th note to the current chordauto chord play generative automatic chord sequences based on the songo algorithmscales see the current key 39 s major scale (ionian) and access other modes (outside the current key)auto scale play generative automatic note sequences based on the songo algorithmwhether you play guitar keyboard saxophone trumpet trombone or nothing at all songo can be a valuable songwriting assistant.

Related Apps to Songo free chord finder