Free wifi internet finder for Android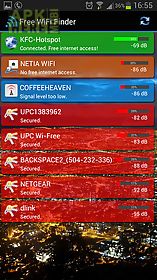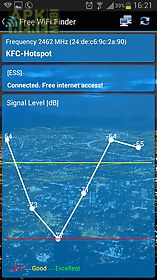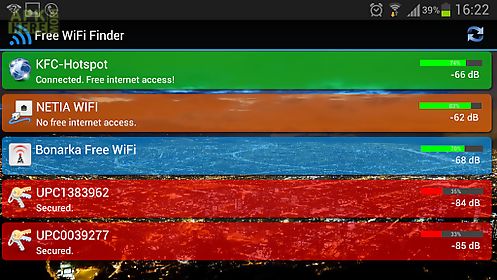 Free wifi internet finder app for android description: Automatically find and connect to free open or not properly secured wi fi networks with free internet access.
Just move around and let this application to explore networks in range.
You will be notified when a hotspot with free internet connection is found and signal level map will guide you to the perfect place for surfing the internet at the highest speed.
We are constantly improving and optimizing algorithms for network analysis and testing to make sure that if there is a free wi fi network nearby you will find it quickly and connect to the internet anywhere.
After connecting to the wireless network you can quickly check internet connection quality and real internet speed.
Professional internet speed tester will calculate and show real transfer rate that you will actually experience when browsing web pages and downloading files using the current hotspot.
You do not need to be a hacker the application is designed to be useful even for beginners who do not know anything about computer networks.
There are millions of open access points around the world which you can connect to you can find it almost everywhere maybe even your neighbors have poorly secured wifi.
This application is a perfect choice for tablets without lte or 3g modem and phones with limited data transfer plans.
It is also very useful abroad you can save your roaming data usage.
Launch this app and check if there is an open wifi within your reach it is completely free!
Please send us an email if you have any problems with this application.
Stay tuned for updates with new exciting features very soon!

Related Apps to Free wifi internet finder