Philippines radio stations for Android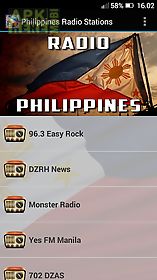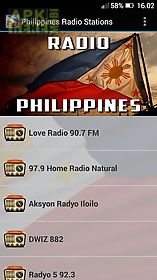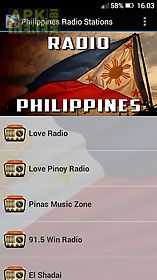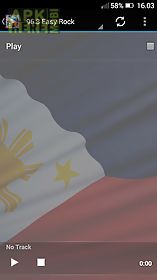 Philippines radio stations app for android description: With this application you can listen over 15 most popular philippines radio stations at your mobile phone or tablet.
You can run this application in background and use your phone without any problems.
All radio stations in this application are live streams and you can listen them 24 hours if you want.
So enjoy in your favorite philippines radio stations for free!
Some of radio stations which you can listen with this app: 9- 3 easy rock dzrh news monster radio yes fm manila 702 dzas love radio 90.
7 fm 9- 9 home natural aksyon radyo iloilo dwiz 882 radyo 5 9- 3 love pinoy pinas music zone 9- 5 win el shadai 9- 9 ifm manila barangay ls 9- 1 monster bt rj 100.
3 fm mor 9- 9 legazpi radio maria philippines nu107 rock pinas music hits 104 atlantis 10- 1 crossover fm 10- 6 rlite fm bangis fm rmn cebu radio la barca 8- 3 pbn broadcasting network love baguio wish fm 10- 5 retro dcg fm hitz fm online y101 dyio fm 10- 1 10- 1 myradio fm rakista rpm net v hive tingog sa sugbo oomph 9- 1 entertainment radio dwbm crossover fm tlig filipino power 8- 1 fm cebu freedom online tagbilaran and much more!
This application requires internet connection and you must have wi fi network near you or you can use mobile internet service from your provider but be careful because your mobile provider can charge internet bandwidth.
Important: at some devices you can see error accessing audio file message.
That is because your mobile phone can 39 t open radio station playlist file.
We hope that this problem will be solved soon.

Related Apps to Philippines radio stations