Mortal skies 2 free for Android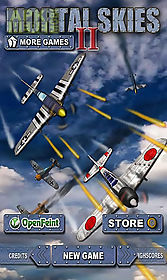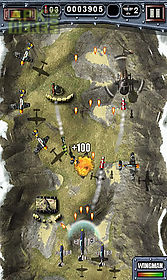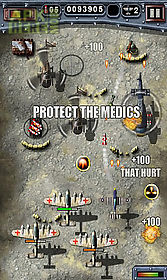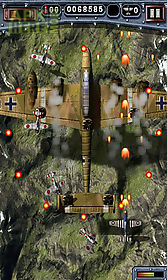 Mortal skies 2 free game for android description: 1950 world war 2 never ended and german and japanese forces have conspired to attack the free world.
On your last mission you were captured and put in a prison camp.
Now it 39 s time for payback.
Escape the prison camp and blast your way through enemy lines.
Will you succeed to destroy them and finally make an end to world war 2 ? Mortal skies 2 is a classic shoot em up arcade action game with action packed gameplay and awesome graphics.
Discover this fast paced shoot em up action game with hours even days of fun.
Collecting all achievements will keep you challenged to unlock extra planes.
Features: extra attention has been given so that it runs smooth on even 1st generations iphones.
Earn xp by playing the game and reaching milestones in the game.
This xp can be used to improve your plane 39 s speed armor bullits and bonuses.
9 big levels across varied environments.
Huge diverse endbosses including bombers tanks choppers and even a one on one dogfight endboss.
13 weapon upgrades power ups.
Awesome achievement missions: earn bronze silver and gold cups for each of the 9 different achievement missions.
Different achievements require different gameplay tactics so you will be challenged to keep playing.
Openfeint and gamecenter support.
Submit your highscore and compete with other players worldwide to be the best mortal skies 2 pilot in the world.
Difficulty settings can be adjusted using a slider bar (100 different difficulty levels!
).
Increasing the difficulty will also increase the maximum available highscore.
So you will always be challenged to set that score.
Control your plane by using touch controls or accelerometer.
Pocketchange support for your daily gifts.

Related Apps to Mortal skies 2 free