Media player for Android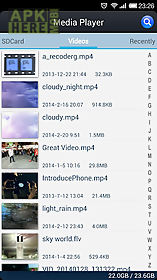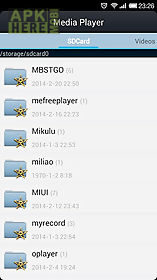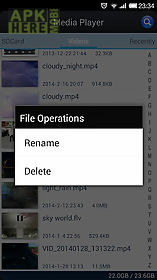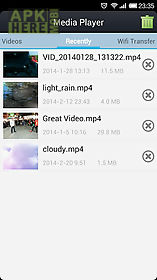 Media player app for android description: Media player is one the best video player and music player for android.
It can handle all popular video formats including: mp4 wmv avi mkv dv rm mp mpeg flv divx swf dat h264 h263 h261 3gp 3gpp asf mov m4v ogv vob vstream ts.
Notes: this app just a local video player we do not provide the online video download feature.
Media player finds all your videos automatically for you.
And saves your time and disk space to transcoding or format converting.
Just put your video on sdcard or click the url in browser to watch it.
Support sub: srt ass ssa sub txt utf smi rt aqt jss js utf8 utf - the media player load external subtitle with same name of video automatically and support.
M3u playlist.
Media playerprovides a powerful wifi transfer function: upload and download video files to from your phone over a wireless connection.
Wifi transfer is a light weight web server that lets you upload and download files to from your phone over a wireless connection.
It doesn 39 t require any special software on the computer so you can use it anywhere.
Features: 1) supports all video formats 2) hardware acceleration hardware acceleration can be applied to more videos with the help of new h w decoder.
3) mutil core decoding dual core device s performance is up to 70 better than single core devices.
4) automatic identifiy all mobile phone video files 5) provides a wifi cable 6) supports hd videos and hd video playing memory optimization 7) playlists and continuous play 8) thumbnail displays of videos 9) delete rename play pause operations 10) codec plugin.

Related Apps to Media player