Halloween free live wallpaper for Android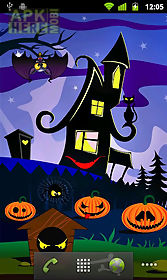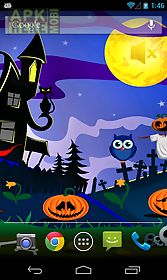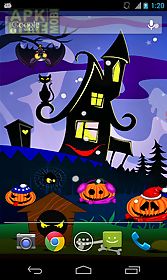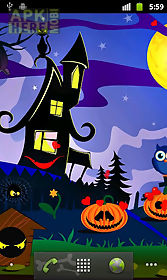 Halloween free live wallpaper app for android description: Holidays pumpkins live wallpaper.
Halloween pumpkins which you can smash vampire smile flying witch halloween castle horror and fun!
This halloween live wallpaper lets you play with pumpkins under the moonlight turn the window lights on and off make the witch fly across the night sky!
Make the bat scream and see the owl blinking!
Turn the sound on and off by tapping the moon.
Listen to the sound of horror that scares the hell out of you!
But still it 39 s fun!
Enjoy free halloween lwp!
Happy halloween!
Let the nightmare be fun!
You like scary creatures? Here is some good news: they all are ready for christmas and new year!
Your favorite halloween characters are now dressed up for scary xmas party in scary christmas and new year live wallpaper!
A new character ghost and christmas countdown.
The nightmare before christmas.
You can also select love pumpkins (made especially for st.
Valentine s day) with st.
Valentine s day countdown or st.
Patrick s day live wallpaper with st.
Patrick s day countdown.
Shamrocks decorate the wallpaper and the characters have got festive attributes.
The wallpaper became greener and a bit more irish.
Enjoy the st.
Patrick s spirit!
Each season brings up new features in this live wallpaper.
Choose the holiday you like and enjoy the festive spirit with us!
Features holidays pumpkins live wallpaper free: several holidays.
Choose a holiday in settings.
Holidays countdown live wallpaper interactive live wallpaper (lw) funny scary creatures horror sounds (tap the moon) scrolling.
Wallpaper scrolling is also supported on samsung galaxy s 3 s 4 and htc sense the button to select and install live wallpaperlike live wallpaper on fb: pages live wallpaper 292869810741828 see news and backstage on pinknapalm.

Related Apps to Halloween free live wallpaper