Future theme for go locker for Android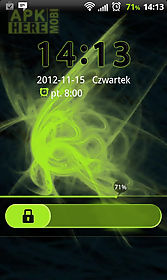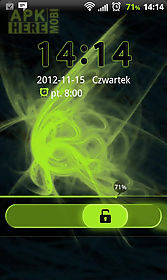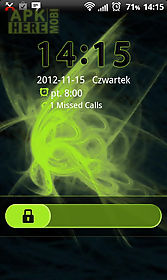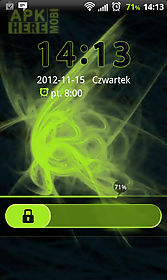 Future theme for go locker app for android description: Lock the phone on and the screen shows a green tangle of lines.
Takes us in the blink of the eye in space.
From behind the green aurora emerging black depths of space living creature.
He nods to me and invites you to walk through milky way.
The initial fear subsides before curiosity.
What is behind the green curtain of night? What unknown world? In the distance i hear the gentle sounds of panpipes.
Where to put the invisible musician.
I take a step into the dark and green aurora slides in front of me like a curtain in the theatre.
I do not have wings but it brings me green dancing rhythm.
I close my eyes and i move to a distant galaxy.
I see a swirling green stars and flying at breakneck speed green comet.
Someone dancing in a vortex of green ribbons someone else plays the flute.
Except to the extraordinary wallpaper with lime green cosmic form of life there is also cool unlock slide bar in similar colors of green.
The button has a small cute padlock and all you need to do is tap the screen and slide to the right.
In addition just plug in the charger and locker future theme will show you the battery level of your phone.
How to set up locker theme: - press menu button or slide from bottom to top on screen.
- Go to themes.
- Switch to locker tab at the top of the screen.
- Switch to installed tab.
- Choose our theme and click apply.
Support pack of themes: if you need help with our theme please contact with us on email: packofthemes our support works only in the english language.
Please contact us in this language because we will solve your problem easier.

Related Apps to Future theme for go locker