Hearts theme for go locker for Android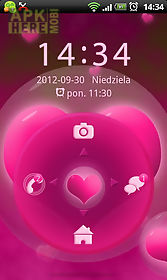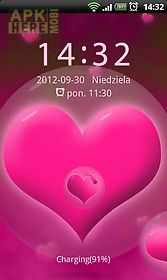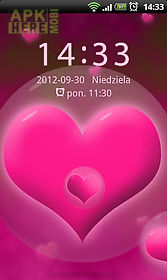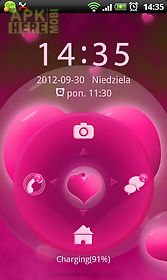 Hearts theme for go locker app for android description: This hearts theme was created for the fairer sex whom love is most important.
Love makes us happy like never before.
Someone steel our hearts and we are in seven heaven.
We dream about send love letter to our soul mate and live like characters from love stories.
We dream about prince who is affectionate intelligentand manly.
We need to to feel safe with him.
We met him someday and we fall in love.
Over time our relationship matures and we learn what is rapport amicability and togetherness.
With time...
Love becomes more beautiful.
Wallpaper is adorable and sweet.
Theme shows pink heart in the bubble on the pink background.
Locker is full of positive emotions.
This theme contains: cool pink wallpaper at background with big heart in a bubble changed lock screen changed battery loading bar little heart in the middle of big heart show us when battery is loading changed clock graphic bright pink color default lock screen icons like alarm new message and missing call are swapped to new sweet and nicehow to set up locker theme: - press menu button or slide from bottom to top on screen.
- Go to themes.
- Switch to locker tab at the top of the screen.
- Switch to installed tab.
- Choose our theme and click apply.
Support themes for droid : if you need help with our theme please contact with us on email: themes.
For.
Droid our support works only in the english language.
Please contact us in this language because we will solve your problem easier.

Related Apps to Hearts theme for go locker