Free alert tones for Android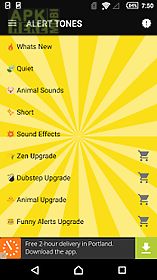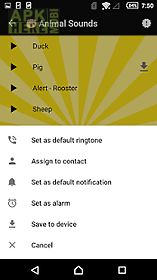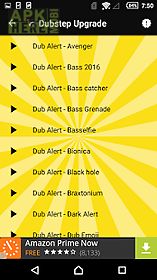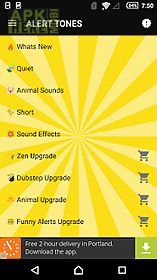 Free alert tones app for android description: customize your notification sounds text message alerts and wakeup sounds with 100 new ringtone alerts.
Customize any of the following alerts - new sms txt message arrived - new voicemail arrived - new email arrived - new calendar reminder - new alarm - email sent - tweet sent (alert types will vary based on which android phone you are using)something for youquiet sounds loud sounds tons of sound effects relaxing zen tones dubstep and hilarious sounds are all available.
Unlimited downloads download this app once and you can download an unlimited number of alerts to customize your device with.
You will not be charged each time you download a tone.
Save money custom text message sounds for each friend (bonus) set a unique text message sound for each of yourfriends so you can tell who just send a message without looking at your phone.
Perfect for driving or when your phone is in your pocket purse etc.
Note: the ability to customize each alert type varies based on which android device you are using.
Please contact your manufacturer (e.
G.
Motorola samsung htc sony) to verify which alert types you can customize.

Related Apps to Free alert tones