Floating draw for Android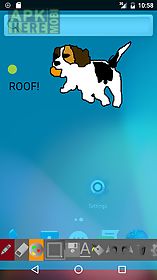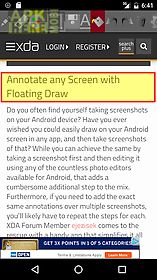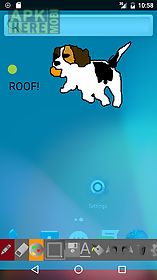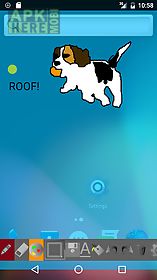 Floating draw app for android description: Features: draw over any screen!
Use various shapes like squares circles and arrows.
Fill the screen transparently to cover part of your phone!
To take screenshots please use your phones default screnshot.
Please like my page at: https: jez3apps free!
On screen annotation allows you to draw over any screen!
Change colors draw shapes(circle triangle rectangle line) fill your shapes with color with the fill paint tool!
Guide: open application click drawing icon (located in lower left hand corner) change shape (click the square with the paint brush in it) change color (click the square with color in it) draw on screen(just click anywhere on the screen besides the menu) clear the screen(click the garbage can) return to normal interactivity(click the return button) close the program(click the big x after you click the drawing icon)note: if you fill the entire background and return to normal interaction you won 39 t be able to see the pencil tool or anything on the screen.
If you click the location where the pencil was it will open the drawing menu and you can erase it if you wish.
Reviews: similar functionality to lg 39 s quickmemo and samsung 39 s s note.
(Indiatimes) floating draw is a small android app that provides you with basic on screen drawing tools that work anywhere in android regardless of what screen you re on.
Quot (xdadevelopers)permissions requested: system alert window allows user to draw on the screen.

Related Apps to Floating draw