Fingerboard: skateboard for Android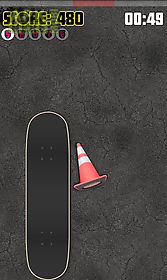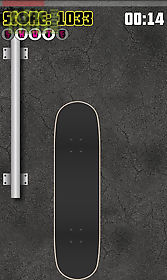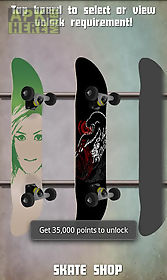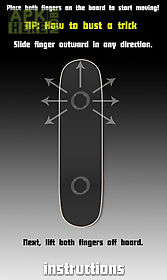 Fingerboard: skateboard game for android description: Skate grind ollie kickflip heelflip and varial flip in this finger board skateboarding game!
This is a 2d classic version of fingerboard check out the completely revamped 3d version fingerboard hd!
Addiction.
This game is so amazingly simple and addictive!
I want more!!
Best mobile skateboarding gamesi love this app!!
!
!
Awesomegreat variety of tricks and grindsmonth of october only collect 20 pumpkins and unlock a halloween skateboard!
Follow us on twitter: gaveintothehypeor on the web: fingerboard pro now on the android market!
Upgrade to fingerboard skateboard pro to unlock new skateboards experience a smoother and faster ad free game play and free skate mode.
Thank you for your continued support!
Keep it coming!
Please email the developer with your feature requests or bug reports before giving negative feedback!
Fingerboard instructions: you are the skater place both fingers on the skateboard to begin.
Bust tricks as you slide your finger away from the skateboard deck.
Dodge objects grind rails bust a crazy board slide and speed skate your way through to get a high score!
Developer note: fingerboard hd skateboarding is three dimensional and available elusively on google play!
Fingerboard classic is a skateboard game simplistic and two dimensional.

Related Apps to Fingerboard: skateboard