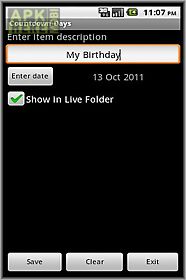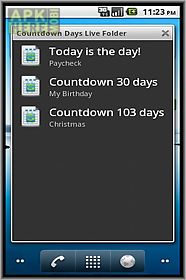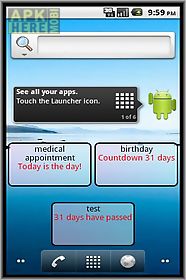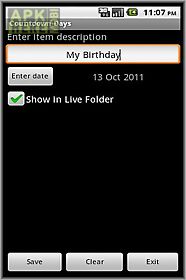 Cntdwndaysad app for android description: This app provides a count down timer to count down the number of days to the item event date.
It does not require any internet connection so it is useful for users who live in areas where internet connectivity is poor or unstable.
To configure tap new item enter an item description and a start date checkbox to show in live folder and save.
To search tap search to search all or key in a partial item description to do some simple filtering.
To edit delete items you can tap and hold on those entries in the result screen and a pop up window appear.
Tap delete all to delete all.
A live folder is added so you can add to the home screen and leave it open.
Whenever there are changes to those events dates as you edit the records using the app or as each day passed by it will be updated automatically.
The application support english simplified chinese traditional chinese display.

Related Apps to Cntdwndaysad