Zombie photo booth free for Android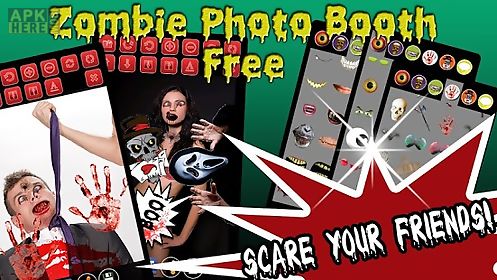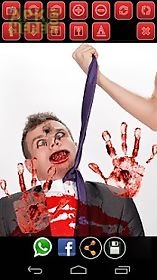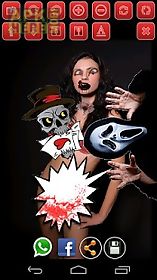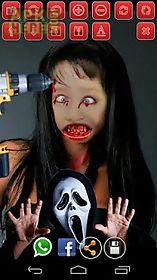 Zombie photo booth free app for android description: scary sticker app to fake your pictures.
Give your pictures a creepy touch.
Thanks to this amazing tool you will be able to create unique photos.
Use this cool sticker app to change your face the one of a friend or simply to add something special to any picture that you have saved in your library.
Select a photo from your gallery and start personalizing by choosing between numerous frightening stickers.
You will be spoiled for choice in selecting the coolest stickers.
It contains stickers divided in different categories like: monsters: frankenstein dreadful and cartoony zombies scream bloody heads etc.
Eyes and glasses: contains many different types of sun glasses and special eye types of a cartoon cats zombie shadow robots red bleeding eyes etc.
Fear: has got bloody weapons ax drill hammer danger signs skulls blood horns etc.
Mouth: presents various mouth expressions sharp dentures vampire bites animal noses like the one of a monkey and pigs etc.
Cartoon: pumpkin faces in different moods and heats cool skulls monster faces ghosts etc.
Speech bubbles: let your pictures communicate something or create a comic story by writing something into bubbles.
With this fantastic tool you will be able to create fake pictures to send per mail share with whatsapp twitter skype another messenger tool or simply upload them to facebook flickr dropbox etc.
Take a photo of a friend and decorate it with the stickers you will find in this big pack.
Its easy: - choose a picture- choose the stickers you most like- resize the stickers with the finger(s).
- See the fearful results- save and share your dreadful pictures with the world )with this free app it is very easy to fake photos.
Make your friends laugh or scream!
Create delightful images of your friends with just one tap!

Related Apps to Zombie photo booth free