Yoga fitness training for Android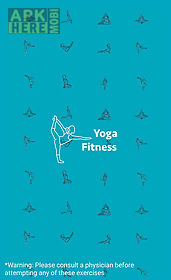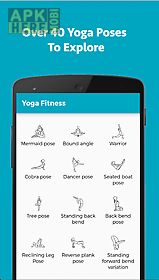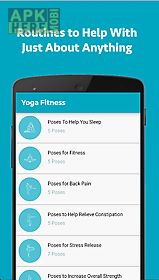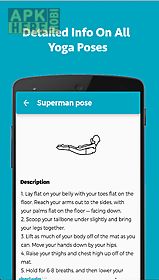 Yoga fitness training app for android description: Welcome to yoga fitness.
A pocket guide to to all of the most effective yoga poses for the body.
We have various routines that target different parts of the body as well as different effects.
For example: poses to help with constipationposes to help you sleepposes to help stressposes to increase strengththe app offers over 40 poses and 8 routines for your body.
Some of the poses are beginner level and some are for more advanced.
As you progress through the app and stick too it you will become stronger through exercise and daily diet.
Yoga is not only for relaxation.
Some of the most strongest people on this earth perform yoga daily to keep their body strong and their mind free.
We have 4 main function for the app: poses lookuphealth tipsyoga exercise guidelinesroutinesexercise is the key to life.
Keep the body strong and your mind free.
Although some think yoga is only for relaxing and staying calm yoga is a great strength builder and some of the strongest people in the world perform yoga on a daily basis to reduce stress and build muscle.

Related Apps to Yoga fitness training