Year planner 2014 2015 free for Android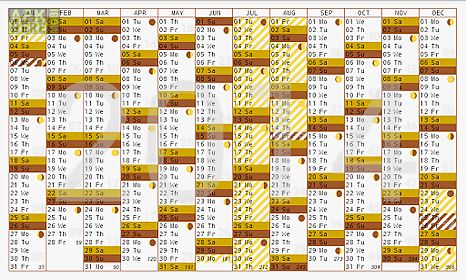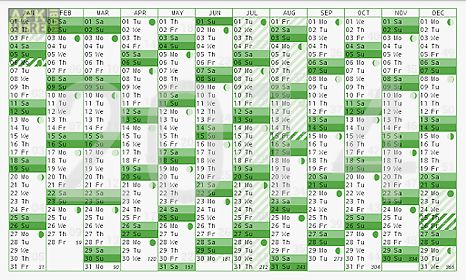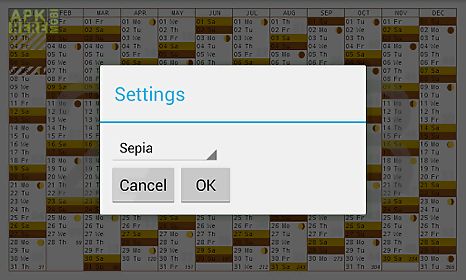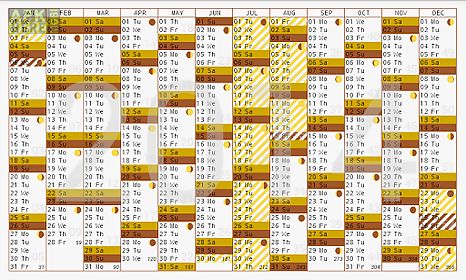 Year planner 2014 2015 free app for android description: This app displays a tabular calendar view of a whole year similar to what many office staff have on their walls.
Use double tap to change the color of a day (work leave holiday).
Use swipe to change the year.
Use menu settings to assign one of 20 distinct color schemes to the current type of year( ).
Requires a display of sufficient size and resolution.
Supports only landscape mode.
This is a very simple pocket calendar style app.
The idea is to have the whole year at a glance and to adjust the calendar view text free with just a finger tip ( double tap ).
This way it should be very simple to record public holidays school holidays annual leave etc.
And use the calendar as a vacation planner.
If there is enough interest i might add a global list of public holidays synchronization with google calendar printing alternative annual calendar views etc.
However with the current rating it seems not worth the effort.
( ) E.
G.
All years resp.
Leap years which start on the same day of week.
The calendar view has been localized for bg bn cs da de el es fi fr hi hu id it ja ko nl no pl pt ro ru sk sv th tl tr uk vi zh.
Privacy + ads + in app billing: this app contains ads.
A small donation via in app billing keeps the app from displaying ads.
This app contains third party libraries from google analytics google admob google play and appbrain.
If you don 39 t like this don 39 t use this app.
For details consult the privacy statement.
Tablet pc.

Related Apps to Year planner 2014 2015 free