Wifi safe 2015 for Android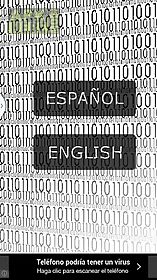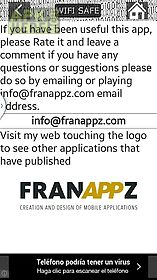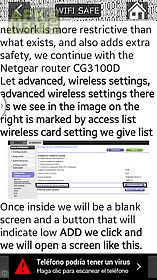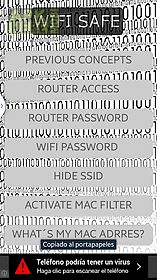 Wifi safe 2015 app for android description: The ultimate app to get your home wifi network is secure.
In this application you will learn in an easy simple and intuitive to get access to your router change parameters and other utilities make your wifi is safer.
Smartass neighbor with an app on your mobile you hacked your wifi network with this step by step tutorial with images you can avoid over.
The data on your local network safe from hackers the bandwidth of your connection to test intruders use to get several barriers or security measures which are explained clearly.
How to access the router reset router password change the name of the ssid hide ssid choosing the best type of password wifi with examples physical mac address filtering how to find the mac physical address of each of our devices to add to our networkcatch is taken as reference marks netgear router screen cg3100d model the menus may change but all the functionalities and features are the same for almost all the other brands and or models.

Related Apps to Wifi safe 2015