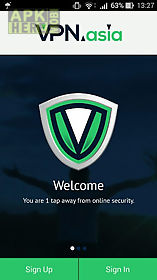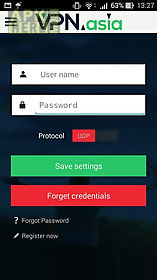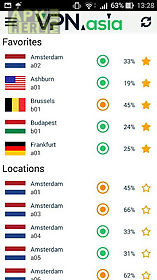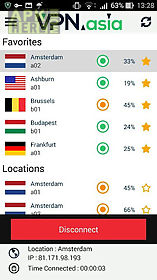 Vpn.asia app for android description: +++free trial 3 days+++change hide your ip unblock web restrictions and applications such as netflix skype facebook hulu youtube snapchat and instagram.
Fastest vpn in asia why you need vpn? Change hide your ip addresswatch netflix hulu and bbc iplayer from anywhere in the world.
Stop isp 39 s from logging and throttling your speed.
Keep all your data secure and private.
Unblock facebook instagram and many more websites applications.
Online freedom no logging no throttling and unlimited high quality speed.
Plan options: 3 days vpn access (free trial) 01 month vpn access 96 months vpn access 451 year vpn access 69subscription detailsall the vpn services can be ordered via our website.
Payment can be done by creditcard paypal bitcoin or paymentwall.
More info? Surf to our website or by pressing sign up in the app.
Why choose ? We offer the best vpn speeds the most secure connections best support and the lowest prices.
With many servers in 30+ countries no matter where you are you 39 ll be able to control the ip address.
Fastest vpn for asia!

Related Apps to Vpn.asia