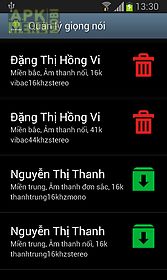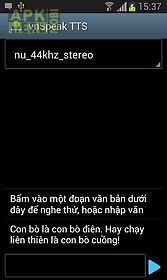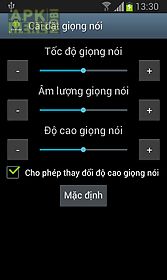 Vnspeak tts app for android description: Vnspeak new vietnamese text to speech systemvnspeak is new the state of the art vietnamese speech synthesis system that provides lifelike expressive reading sentences paragraphs speeches and even entire books.
Vnspeak uses artificial intelligence algorithms to learn from expressive amount of real human recordings in vietnamese and produces synthesized speech that indistinguishable from the professional voiceover recording.
Vnspeak is proud to be the first vietnamese text to speech engine that produces real human voices in android.
Requirements: android api 14 and upper (android - 0 ice cream sandwich and later versions)note: vnspeak tts is free for end users only.
Companies or individuals that want to embed it in their business products have to get writing approving from me!
Two voices (southern and central dialects) have been removed due third party 39 s agreement.
Enjoy listening vietnamese!

Related Apps to Vnspeak tts