Tuner & metronome for Android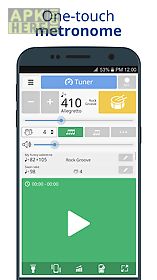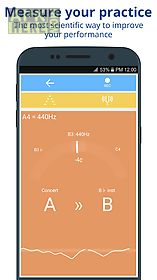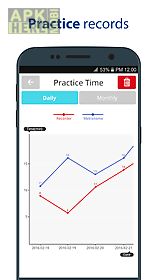 Tuner & metronome app for android description: Easy: one touch access to frequently used features.
Save your time.
Professional: feature complete app for pro musicians.
Improve your performance with soundcorset.
With one touch you can: start stop the metronome set a combination of sound flash light vibration visual beats turn on tuner record your play select rhythm pattern use black screen battery saving modecover the proximity sensor with hand motions to: stop the metronome in battery saving mode features tuner with 2 modes: (1) chromatic tuner measuring sound pitch and intensity (2) pitch fork mode customizable a4 frequency (440hz by default) a real metronome shouldn 39 t lag beats: our app never lags record your music with integrated one touch recorder flash light metronome modeif you can 39 t hear the sound of the metronome due to the speaker volume limit or loud background noise you can turn on the flash light metronome mode.
In this mode you can easily see the beats as flashes of light.
Project the flashlight to the wall then the entire wall can flash the beats.
Large start buttonstart the metronome with single easy press of the button.
Additional features supports all instruments with many active piano guitar ukulele mandolin violin cello viola bass drum flute harmonica users!
Supports all kind of transposed instruments including b flat clarinet f horn e flat saxophone d flat piccolo and many others.
Scales practice precise beats per minute (bpm) control bpm detector practice time tracker high precision tuner visual metronome mode using flash light of the camera tuning fork pitch pipe about permissionsaccess to camera is required for flash light metronome access to phone status is required to stop the metronome when a call is incoming access to microphone is for recorder and tuner and access to storage is for recorder.

Related Apps to Tuner & metronome