Topik listening for Android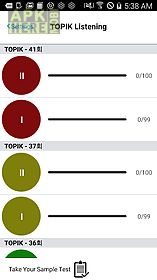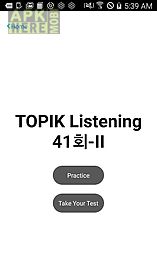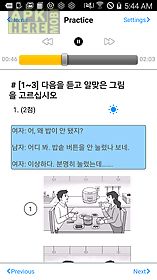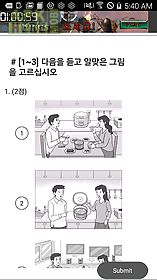 Topik listening app for android description: This app is made in order to help you prepare better for test of proficiency in korean (topik).
Besides it 39 s also good for people who just want to practice more about korean reading and listening.
Main functions practice: content is divided into sections consisting of questions then you can practice listening by yourself.
A media player toolbar may help you re play seek forward or backward comfortably and hint text is shown for checking again.
Take your test: this function serves as an actual test without media player tool or hint text.
You should finish your test within the time stipulated.
Results will be displayed after you submit or time out.
Take your sample test: this function is used for generating a sample test by randomizing available test content.
Please make sure that all of corresponding audio files have been downloaded already.
Auto update: the newest exams will be updated automatically via internet.

Related Apps to Topik listening