Theme hearts for go launcher for Android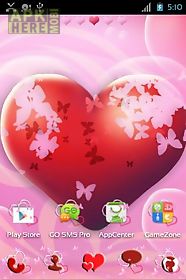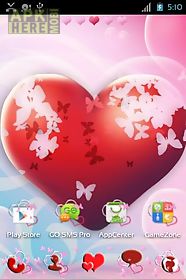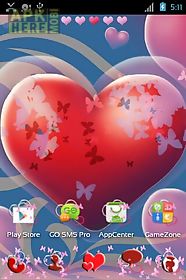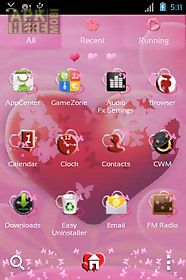 Theme hearts for go launcher app for android description: This theme presents big red heart dressed in different sized pink butterflies.
All of this on sweet backgrounds bright adorable pink or nicely combined pink with blue both composed into beautiful wallpaper.
In the corners there 39 s even more hearts in the shape of bubbles.
Isn 39 t it sweet? Theme contains also cute pink panels and icons with butterflies on them looking like they could fly away every minute.
Ordinary page numeration was replaced with tiny hearts.
Main background may be also a nicely colored brick wall.
This theme is not only for those who 39 ve fallen in love are with their beloved ones it 39 s for every single soul that knows how to love that knows it 39 s loved and love back.
You don 39 t have to be romantic to know that love can appear in different forms and shapes it can find us everywhere and make us feel so many things emotions that are theoretically completely opposite.
When we love we can be happy sad and feel cared for all in the same time.
Love is an inspiration for many artists and writers.
For some it 39 s the most important thing in the world the only thing that make us complete make our existence full of happiness.
This theme contains: cool pink heart icon pack 3 high definition wallpapers with sweet butterflies changed app drawerhow to set our theme as default: back to launcher home screen press hardware menu button on your device on slide vertically to top on screen press themes button slide horizontally or press installed tab tap view of our theme click apply button enjoy : )support themes for droid : if you need help with our theme please contact with us on email: themes.
For.
Droid our support works only in the english language.
Please contact us in this language because we will solve your problem easier.

Related Apps to Theme hearts for go launcher