Tcm music tag editor for Android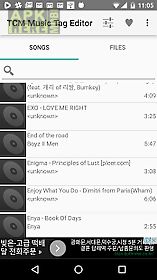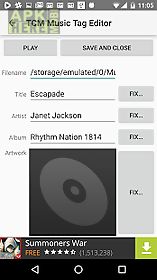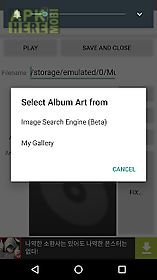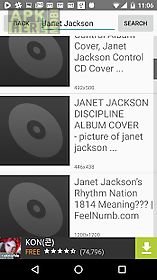 Tcm music tag editor app for android description: tcm music tag editor allows to edit tag information including album art from media files.
Also it provides an easy way to fix incorrect(garbled) text in tag fields as chinese korean japanese encoded.
Version highlights - - 0: add image search engine.
- - 0: provides quick search and artwork resolution options.
- - 3: back to support froyo but it will be discontinued after aug 201- - - 1: when you save tag info with larger than 300x300 artwork image then automatically it will resize as 300x300 sized artwork.
- - 0: saving tag updates the file and mediastore at the same time.
This feature is unique not like other tag editor!
If you have updated with older version(id3tagman) you need to edit and save again with this version to update the file.
- 0.
0: support editing album cover!
Features able to edit tag information such as title artist album.
Album cover update from internet search album cover update from your gallery (v- - 0).
Provide an easy ui to fix incorrect(garbled) texts in fields at once.
Provide file browsing to select a media file in files tab.
Landscape mode support multilingual support in ui: english korean italian simplified chinese(partial) traditional chinese(partial) japanese thai brazilian portuguese spanish german(partial) malaysian(partial) vietnamese(partial) (you can contribute to support your language in goo.
Gl kyyti) quick scroll in lists.
Support this app move to sd card.
Launch music player in edit munity users community: https: plus.
Communities 111490617040294605940 become a beta user: goo.
Gl h7vgw1trouble shootings when your modifications are not applied to play music even your changes are updated on this app try following steps- go app info of google play music from settings - press force stop - press clear data - back to google play music - all music should be updated with your changes.

Related Apps to Tcm music tag editor