Tchatche : chat & dating for Android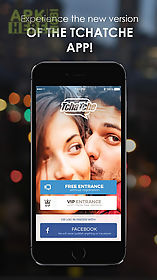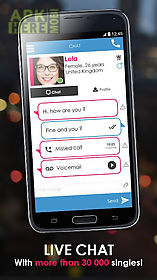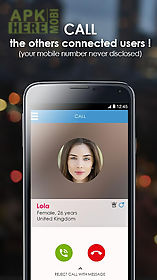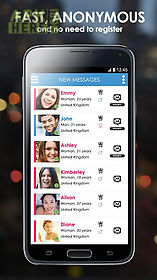 Tchatche : chat & dating app for android description: Already more than 1 million downloads of the android tchatche app.
Join all the connected users now!
Tchatche is the only free chat and dating app with more than 100 000 daily connections (men and women).
For 15 years tchatche remains the live chat and dating app that you need on your mobile!
New : call the other connected users anonymously.
Your mobile number will never be disclosed.
Send all your messages as high priority.
Receive message delivery and read reports.
Chat without advertisingadvantages of the tchatche app freethe application is free.
Endless chat and dating!
No subscriptionregistration is optional.
It simply allows you to have access to more chat and dating services: booking your nickname add your picture save your favorite contacts block users create albums and much more.
By registering you will become a vip member but still free and anonymous!
Anonymousno personal information will be communicated to users.
Only information necessary for your connection are requested.
In all cases the use of tchatche remains always anonymous.
Thanks to live chat discreetly meet single men and women!
Easydating has never been so easy!
Log in and chat instantly with people that match your profile.
You have no more excuse to remain single!
Fastconnect in less than 10 seconds to chat discuss laugh flirt and have new dates.
No matter if you 39 re single or in a relationship tchatche app is ideal for more dates.
Download the app now!
Customer servicea question or a comment about the app ? A suggestion to improve the service ? A new chat and dating feature to suggest ? Whatever your request the tchatche customer service will do its best to meet all your expectations.
Please contact us using email : tchatche hotline.
Centerall messages are processed!

Related Apps to Tchatche : chat & dating