Super piano free hd for Android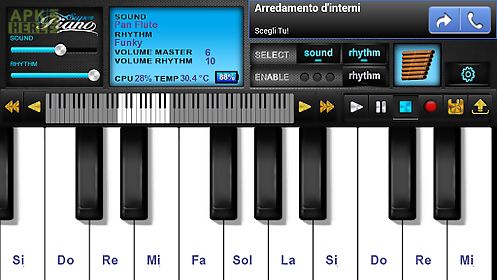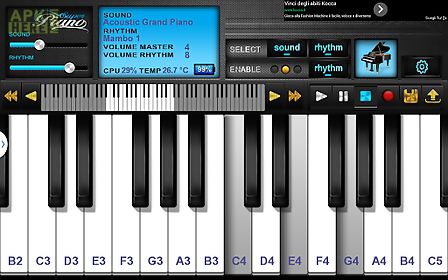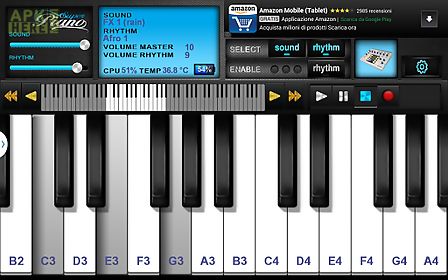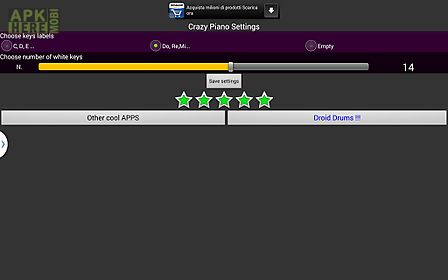 Super piano free hd game for android description: By the developers of droid drums the new version of super piano this is a special piano with many high quality sounds for your enjoying alone or with your friends.
Lot of sounds(will increase in the next updates).
Multi touch supported.
Better performance on tablet or large screens number of keys customizable (7 20) rhytms while you play mixer for individual sound and rhytm levels record and play sequence full 8 octave keyboard to select keys cpu measure on the display battery temperature measure on the display battery percentage on the display...
And many more functions on the next updates!
All free!!
These the synthesized sounds of this super piano : acoustic grand piano electric grand piano harpsichord clavinet celesta vibraphone xylophone tubular bells dulcimer drawbar organ percussive organ rock organ church organ reed organ accordion harmonica acoustic guitar (nylon) acoustic guitar (steel) electric guitar (jazz) electric guitar (clean) electric guitar (muted) overdriven guitar distortion guitar guitar harmonics acoustic bass electric bass (finger) electric bass (pick) fretless bass slap bass 1 synth bass 1 synth bass 2 violin viola cello tremolo strings pizzicato strings timpani string ensemble 1 synth strings 1 choir aahs voice tuhs orchestra hit trumpet trombone tuba muted trumpet brass section synth brass 1 synth brass 2 soprano sax alto sax baritone sax oboe english horn bassoon clarinet flute recorder pan flute whistle ocarina fx 1 (rain) fx 3 (crystal) fx 4 (atmosphere) fx 5 (brightness) fx 6 (goblins) fx 7 (echoes) fx 8 (sci fi) banjo koto kalimba bag pipe fiddle shanai tinkle bel agogo steel drums woodblock taiko drum melodic tom synth drum reverse cymbal guitar fret noise breath noise seashore bird tweet telephone ring helicopter applause gunshotmore coming....
Please consider to rate it if you like!
For suggestions and questions : thebestitalian enjoy and playing!!

Related Apps to Super piano free hd