Straight talk international for Android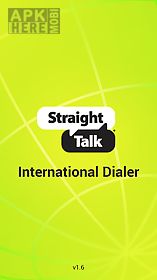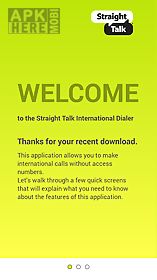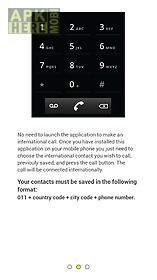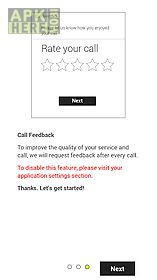 Straight talk international app for android description: Bye bye access numbers!
This free app allows you to directly call stored contacts or international numbers without the hassle of dialing access numbers.
How it works: once downloaded there is no need to open the app to make a call save the international destination as a contact and then just select the contact to make the call.
Or just dial the international number 011 country code + city code + phone number contacts should be saved in the following format: 011+country code+ city code+ phone number this application is for straight talk customers with active service.
Android os systems are sometimes updated before application updates are made.
If you have recently updated your os please be patient as a new update will be available shortly.
Features: no need to dial an access number.
No need to launch the application.
International calls are immediately connected.
Great call quality.
Contacts are easily included just select a contact with a saved international number and the application connects you in moments.
Two great plans available: 60 unlimited international 30 day calling plan: unlimited nationwide coverage plus unlimited international calls from the us to cellular phones in mexico canada china and india plus over 1 000 landline destinations.
To check if your international destination is available text the country code + city code + phone number to 47787 (standard text message rates apply).
10 global card covers all destinations around the world including cellular phones.
You can add this international calling card to any straight talk service plan for more flexibility.
Visit to learn more.
30 day unlimited plans include 3 gb of high speed data per 30 day cycle.
After 3 gb your data speed will be reduced to as low as 64 kbps for the remainder of the 30 day cycle.
If your data speed is reduced the reduced speed may impact the functionality of some data applications such as streaming audio or video or web browsing.

Related Apps to Straight talk international