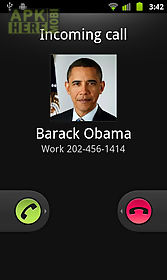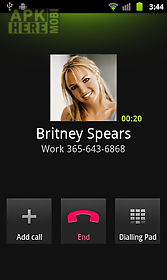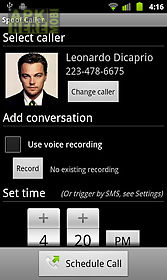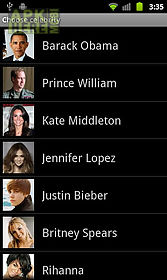 Spoof caller app for android description: Ever wanted to have a call from the president? Still waiting for that long overdue catch up with angelina jolie? Spoof caller lets you schedule pretend calls to your phone from celebrities perfect for cementing your image as a well connected socialite or just to escape that boring meeting.
Record real life conversations so that a voice can be heard on the line when you pick up a brilliant way to prank your friends!
Create a random call schedule to receive unexpected calls from hollywood stars throughout the week!
Choose callers from your phone contacts or a list of celebrities including: barack obama george w.
Bush queen elizabeth ii prince william kate middleton jennifer lopez justin bieber britney spears rihanna lady gaga adele jay z katy perry carly rae jepsen roger federer serena williams david beckham tiger woods scarlett johansson daniel craig justin timberlake kim kardashian ryan gosling leonardo dicaprio angelina jolie tom cruise emma watson will smith daniel radcliffe and more coming soon!
Advanced features include sms triggering allowing you to leave your phone on the side and start an incoming call remotely by texting a secret code to your number.

Related Apps to Spoof caller