Snackimals™ dash for Android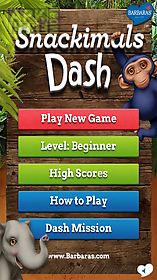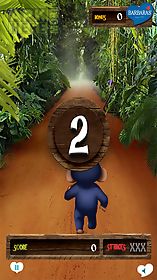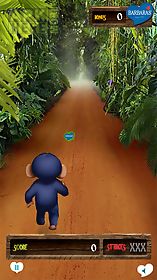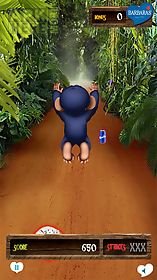 Snackimals™ dash game for android description: Deep inside the jungle the barbara s snackimals monkey is joining you on a mission to find healthy snacks for you and your friends!
Collect healthy snacks such as whole grains to gain energy and make your body happy fueling it for adventures ahead!
Avoid unhealthy snacks and jungle obstacles.
Three strikes and you ll wipeout!
Collect bonus items like the snackimals characters or recycle and you ll get a score multiplier!
Tilt your device to move left and right or swipe up to jump.
Ok are you ready to dash? Let s go!
Features: reinforces healthy habits by allowing kids to earn points by collecting healthy snacks playful snackimals characters to interact with and encourage you along the way fun tilting action to move the monkey across the screen and swipe up to jump multiple levels of difficulty to keep kids at any age entertained realistic jungle sounds and images saves high scores check out barbara s new snackimals cinnamon crunch cereal and snackimals vanilla blast cereal in stores now!
Visit for more information.
About barbara sa pioneer in the natural foods movement barbara s was founded in 1971 by a 17 year old girl who was passionate about creating great tasting food from simple wholesome ingredients.
At barbara s we believe that life is delicious and is worth taking a bite out of every day!
Located in marlborough mass.
Barbara s is committed to making a positive contribution to the world with donations to national and local non profit organizations including the national audubon society s project puffin program celebrating its 40th anniversary this year which promotes responsible stewardship of puffin colonies on historic nesting islands in the gulf of maine.

Related Apps to Snackimals™ dash