Smart useful tools for Android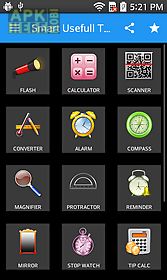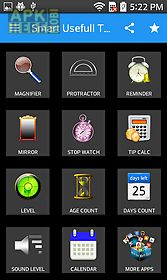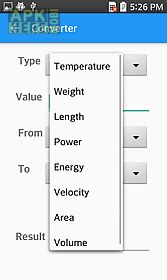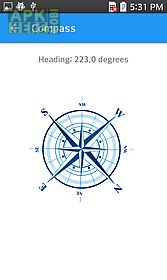 Smart useful tools app for android description: Smart useful tools allows to measure the daily life activities with reliability.
This app is intuitive and simple with a beautiful and it has an optimized ui that is designed for casual user like you.
Smart tools and their features : flash: it is brightest and simple flash light you can turn it on as a torch.
Calculator: very simple and easy to use measure basic calculations scanner: it scan bar and qr codes quickly with your camera.
Converter: convert between different physical units like weight length power area etc.
Alarm: best alarm with lot of features like notification bar active ringtone label etc..
Compass: it helps you shows the right direction magnifier: zoom small objects that are hard to see with camera.
Protractor: measure the angle of any object using your camera.
Reminder: used to reminds the importance dates.
Mirror: capture yourself using the front facing camera it has many mirror framesstop watch: displays seconds count with start and stoptip calculator: shares the restaurant bill between number of personsage count: counts your ageday count: counts number of days month and years between two datessound level: displays decibel values with respect to soundand this amazing app has lot more tools for free download now!

Related Apps to Smart useful tools