Smart ram booster for Android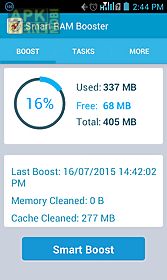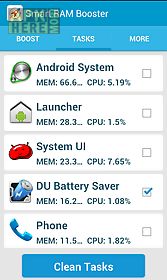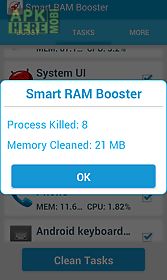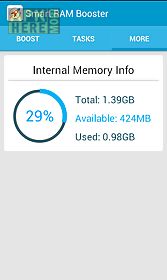 Smart ram booster app for android description: Introducing smart ram booster the best tool to optimize your phone memory manager phone tasks: smart ram booster is a powerful tool to optimize you phone memory kill unwanted tasks in just one touch.
The smart ram booster app is easy to use app which saves battery by killing unwanted tasks optimizing memory.
Features of smart ram booster- powerful app to optimize your phone memory2.
Very easy to use app just one touch on smart boost button is enough- saves battery by killing unwanted tasks optimizing memory- easy to use task killer just select the app you want to kill - no stress on your phone will not drain your phone battery- easy attractive user interface.
- Killing unwanted tasks will boost your phone speed- cleaning memory will reduce the possibility of phone slow down- increase phone performance by cleaning memorymore the number of app 39 s you installmore is the possibility of your phone slowing down with smart ram booster its easy to have more app 39 s with optimal phone performance.
More number of apps also means that your battery will drain quickly but with smart ram booster 39 s task killer feature you can save battery with just one tough supported languages: english simplified chinese japanese korean russian indonesian portuguese brazil french german hindi spanish.

Related Apps to Smart ram booster