Sd insight for Android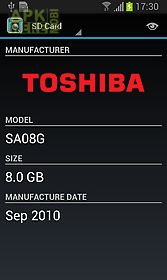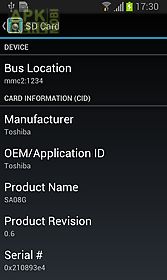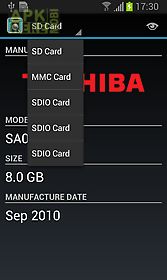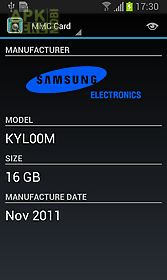 Sd insight app for android description: If you re a digital camera or gadget enthusiast you are probably aware that it can be difficult to know if your sd card is actually authentic.
Counterfeit memory cards have now spread throughout the marketplace.
Packaging on the cards can make it difficult to distinguish a fake sd card from the real thing.
Sd insight is a free fast and easy to use application that you use on your cell phone.
Within seconds the application reads the technical details from your sd card and displays the information in an easy to understand format.
In the world of sd cards the brand visible on the card is often a vendor that labels other people s chips with it s own branding.
For example a major sd card brand such as kingston will place their brand on sd cards that are actually made by others such as toshiba or sandisk.
Sd insight displays the actual manufacturer not the vendor s brand.
It is not possible for sd insight to be aware of every possible sd card manufacturer as such it is possible that the manufacturer will be displayed as unknown.
A reading of uknown does not necessarily mean that the sd card is fake but rather that the card is made by a brand or manufacturer that is not currently identified in the sd insight app.
We are continuing working to improve the database of manufacturers in the sd insight app and announce our software release updates to our twitter account at sd ing sd insight you can also view technical details about the internal emmc and sdio devices in your cell phone.

Related Apps to Sd insight