Scratch emoji quiz. logo guess for Android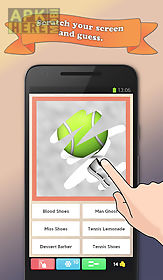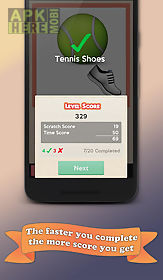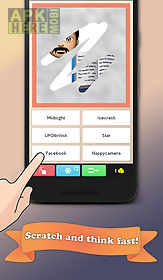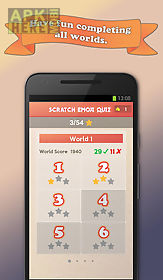 Scratch emoji quiz. logo guess game for android description: The most popular puzzle emoji quiz game!
Very simple to use just scratch your screen to find out what the emojis are describing in there but be careful!
You can not scratch the whole screen just a small area with the portion of the emojis you scratch you will have to guess what it describing.
And hurry up!
You just have a few seconds!
Unlimited fun!
You have hundreds of icons.
In this emoji game you have to have emojination try to guess the emoji as fast as you can.
Match the emoji with the answers you have available you have a lot of topics as cars pop celebrities brands football teams computers pop singers places cities and more!
This game is suitable for adult and young people tons of fun!
This is an addictive and fun picture trivia quiz game for all the family.
Compare your level with other players around the world.
Ready to guessing it? Can you complete all the levels? Can you get 3 stars in each level? Challenge yourself challenge your friends!
You can use 3 power ups to make the game easier and more fun: freezer time: freeze the time 5 seconds every time you use it.
Scratch again: use it to scratch the screen again.
Remove three answers: click it and three wrong answers will disappear.
Whether you re on the toilet in the street at home or in the office toilets you can join the fun.
Whether you re playing with friends or alone it s going to be difficult to stop once you start the game.
Finding the correct answer is really fun!
Kids and family friendly game tests your logic and reasoning skills to solve this simple (and hard!
) Emoji quiz puzzles!
What is it that these emoticons are describing on your smartphone screen? !
Can you guess them all?
Related Apps to Scratch emoji quiz. logo guess