Riddles, brain teasers, logic for Android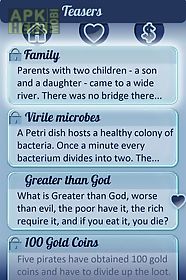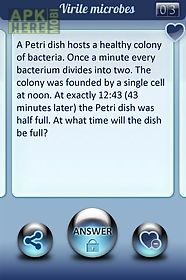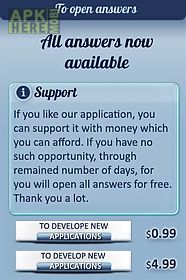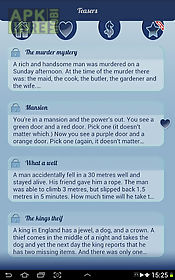 Riddles, brain teasers, logic game for android description: Everyone should be able to solve these tasks.
Some of them might be suggested to solve while interviewing in serious companiesto check candidates analytical skills.
Also this application is eminently suitable for training problem solving skills of children and adults.
Many of the puzzles in this brain teasers app will take hours if not days to solve.
But be patient try to think properly.
We have a best riddles and brain teasers for you.
This app have riddles in the following categories: brain teasers funny riddles logical riddles math riddles name the object or person riddles with words.
Application will first show the brain teasers (problem) only.
Take your time to solve the problem by yourself first.
After that you can click on answer button to see the actual answer.
Awesome this game is sooooo cool nun of my family members can figure this out cool it makes my mind work but some of it are just simple nc nc logics but some are easy hehe in free version the app has limit of answers for 10 days.

Related Apps to Riddles, brain teasers, logic