Recipe calendar - meal planner for Android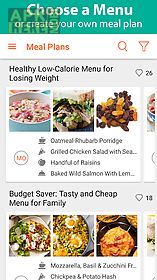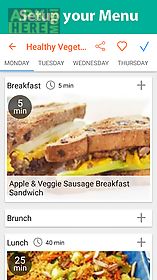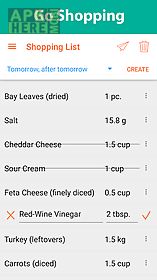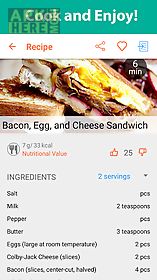 Recipe calendar - meal planner app for android description: This meal planner saves your time for cooking!
It 39 s easy to use: choose a predefined weekly menu buy the products from your grocery list and follow the recipe 39 s directions.
You 39 ll like our menus!
Want something special for dinner? Find a better recipe and update your meals for today.
Choose any meal plan which best fits you by complexity style and health.
Decide how many people will eat and which meals will they have and update your plan as appropriate.
Buy products according to the grocery list and use step by step recipes to cook dishes.
If you are a beginner you can choose a simple meal plan with well known dishes: eggplant with bacon chicken broth or fried pork with noodles.
Want something more interesting? Use complex meal plans and taste outstanding recipes provided by best cookers in the world!
Care about health fitness and losing weight? Choose one of meal plans for weight loss and follow it the fitness menus are based on the real nutrition statistics collected by a calorie counter app.
The weight loss statistics proves: followers of our diet plans definitely lose pounds!
Can 39 t find anything attractive among predefined menus? Plan your weekly menu yourself.
Quot recipe calendar includes more than one thousand of recipes: simple dietic vegetarian low calorie and much more!
You can even create your own recipe and use it in your future menus.
Install recipe calendar now and save your precious time for the choice of meals!

Related Apps to Recipe calendar - meal planner