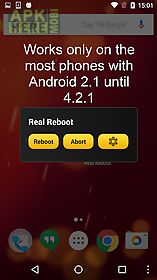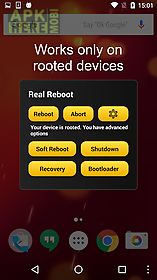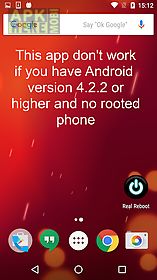 Real reboot app for android description: Reboot your phone with this app (no root needed).
You can select different reboot methods.
All android versions from - - 2 or higher need root!!
This app works only with android - 1 - 1 without roottestet on devices until - 1..
- - - The usage of this application is at your own risk.
Please don 39 t click on 39 set as default 39 (android - 0) or on 39 always 39 (android - 0 or greater) in reboot method 39 launcher 39.
The method 39 htc one 39 maybe run on other android devices with a snapdragon 600 cpu ((z.
B.
Nexus 4 galaxy s4 (gt9505) sony xperia zr asus padfone infinity lg optimus g pro e985)no root needed.
If you find errors or if you have questions please send us a email.
We can 39 t respond the comments in the market.

Related Apps to Real reboot