Radio eska - radio internetowe for Android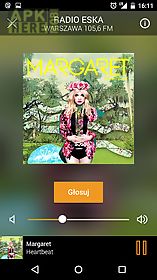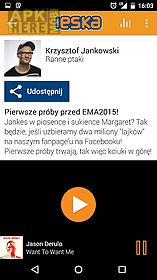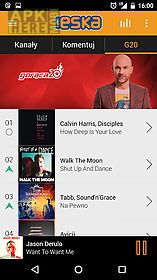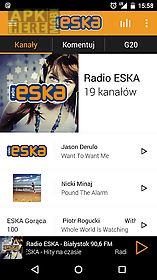 Radio eska - radio internetowe app for android description: Radio eska najnowsza aplikacja twojej ulubionej stacji radiowej.
S uchaj hit w gdziekolwiek jeste!
Kontaktuj si z ulubionymi dj 39 ami: ig jankesem puoteckiem i innymi.
S uchaj podcast w ogl daj zdj cia i wideo.
Komentuj posty i rozmawiaj z innymi s uchaczami.
G osuj w gor cej 20.
Proponuj hity.
To wszystko dla ciebie.
: )Radio eska to hity na czasie sugestie pro my przesy a na support smi.
Plaplikacja wykorzystuje pliki zapisywane na urz dzeniu u ytkownika.
Dzia aj one w spos b podobny do plik w cookies.
Korzystaj c z aplikacji wyra asz zgod na ich zapisywanie i wykorzystywanie.
Wi cej na ten temat dowiesz si na stronie eskago.
Pl w sekcji polityka cookies.

Related Apps to Radio eska - radio internetowe