Puppyz 🐶 virtual pet dog for Android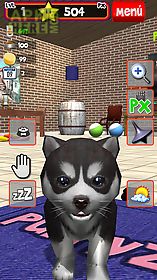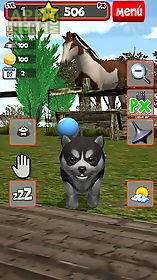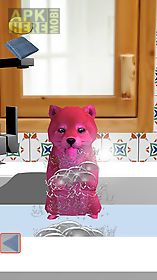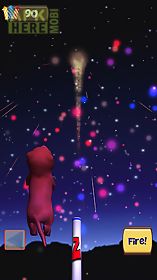 Puppyz 🐶 virtual pet dog game for android description: Puppyz is a different virtual pet is a virtual dog has her own room where move freely play and eat.
It is a virtual dog care and feeding.
Also you can transport your dog to augmented reality to see it on your desk or soil in your hand.
It has three different skins that you can change anytime to your virtual dog.
New: enables the microphone option app and interact with your lovely pet really!
It is fun!
Basic instructions puppy responds to certain keystrokes in your 3d environment.
These are the most common: clicking on the carpet puppy comes running.
This is the starting point.
Here we touch the puppy and perform certain movements.
Dragging the hand icon on the pet it is turned upside down and growls.
Clicking on furniture background go to them walking dog.
If you click on the corner lamp the light turns off and the dog falls asleep.
If the dog was already asleep and the lights off touching the lamp light turns on and the dog wakes up.
Clicking on any of the two tables balls falling from the ceiling at random.
Clicking on the balls puppy pursues.
Each time the puppy touches any of the initial balls new balls that disappear when you touch them are created.
When the dog touches the initial balls and play with them energy is consumed and the puppy thin.
While in the kitchen touching the plate of food or drink will be fed puppy.
Do not feed the dog a lot that you can be fat and slow and lazy.
In this case you have to play a lot with him so thin.
While in the bathroom you must first open the tap and wait for the level to rise.
After a moment the water closes automatically and the sponge is displayed.
If you drag the sponge over the puppy a lot of foam and bubbles will be created and the puppy will be clean.
Once clean we can dry with towel the same way.
As days go by the puppy grows and becomes larger.
Your skin changes if dirty or clean if you are fat or thin.
You can play with him in his room or take it to the game room where you divertereis a lot.

Related Apps to Puppyz 🐶 virtual pet dog