Professional tone generator for Android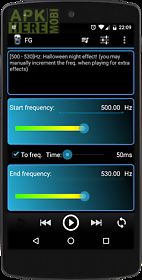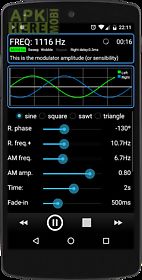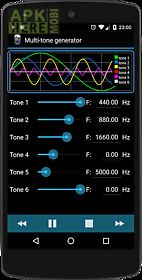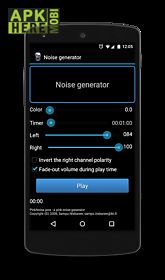 Professional tone generator app for android description: Trial full versionit is a tecnical app yet simple to use.
It runs in the background and has lot of features check below!
What you can do with this app: speaker tests fine tune an audio system create relaxation and meditations sounds noise mask sleep inducing with pink noise find the tinnitus frequency.
Age hearing loss test.
Learn many facts about sound your imagination is the limit!
Features: rock solid double precision real time accurate wave generator(64 bit precision ieee 754 floating point engine) sweep tone generator (linear or logarithmic for musicians) real time manual frequency increment or decrement (accurate without pops and clicks) loops (continuous with no lag no clicks) amplitude modulation 6 tracks real time multi tone generator white noise generator pink noise generator save favorite tones and sweeps in a list for future use precise left right channel volume control possibility to invert one channel for cancellation effects.
Many many pre programmed sound tests ready to be used by the sound professionalthis app has a free 7 days trial period that let you check the value of this app.
Than you can upgrade to pro without having to install another app.
Please support android app development!

Related Apps to Professional tone generator