Pound ounce kilogram gram plus for Android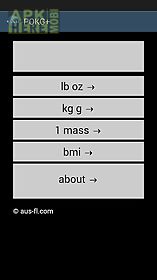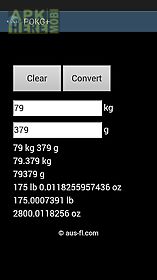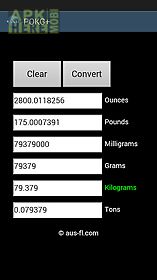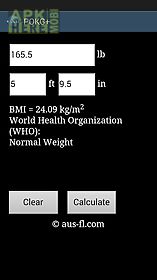 Pound ounce kilogram gram plus app for android description: There are variety of situations in real life when one needs to figure out quickly certain weight measurements in the other system.
Quick examples: body weight of 175 pounds in the us system would be 79 kg 379 g in metric.
Or baby body weight of 9 lb 3 oz would be 4 kg 167 g and the other way around.
Also if you have your digital scale measurements in decimals like - 6 lb but for your postage you need it like 3 lb and 10 oz no problem this app would take care of this conversion for you too!
Pound ounce kilogram gram plus (pokg+) features: pound ounce to kilogram gram conversion in plain english kilogram gram to pound ounce conversion in plain english converts ounces pounds milligrams grams kilograms and tons simultaneously body mass index (bmi) calculator body height in ft in format like 5 39 - 5 takes both whole and decimal numbers runs on both phones and tablets no internet connection is required ad supported for monetization permissions were requested just because of the adsyou 39 re going to need this app rather sooner than later so keep it handy on all of your mobile devices!
We really appreciate your business thank you so very much!
Note: - please go to our website for important information!
- Bmi numbers should be taken only for reference!

Related Apps to Pound ounce kilogram gram plus