Poo flip up! - dash hop pou go for Android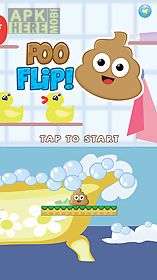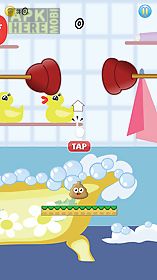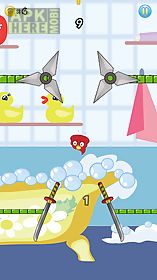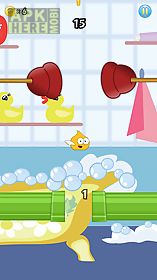 Poo flip up! - dash hop pou go game for android description: Poo flip up!
Dash hop pou go is a super addictive vertical bathroom jump game and the third installment of the funny adventures of stinky poo pete.
Tap the screen to make pete the pou jump hop and dash up to avoid plungers.
Help our friendly farting pooper reach new heights in this action packed new poop flip up game!
The plungers crash together so you have to time your farting jumps just right or your pooper will get popped and flush down the toilet.
Poo flip up will give you hours for bathroom toilet pooping and farting fun.
Each time you tap the screen your ninja pou will let out a little fart allowing it to jump hop and dash past the next set of atomic plungers.
Features endless dash avoidance pou flipping fun gameplay funny toilet bathroom humor at its best colorful bathroom background tap the screen to make a farting pou jump up endless vertical dash up game play hop to avoid the atomic farty plungers don 39 t let them flush your smelly poop down the toilet how high can your stinky poop get? Gt funny farting noises mixed with hard skill gaming!
Gt fun for the kids and the whole family if you love our fart noise stinky poop game please leave a review!
How to play tap to make your pooper jump dash hop and flip up!
Gt time taps to avoid plungers hitting a smelly plunger game over!
If you love endless vertical runner style skill games like happy poo jump and dash up!
Then you will love poo flip up!
Dash hop pou go.
This is a top of the line free endless pooper flying arcade game with gravity physics that will rival some of the best out there.

Related Apps to Poo flip up! - dash hop pou go