Poker jet: texas holdem for Android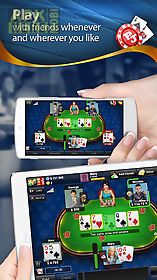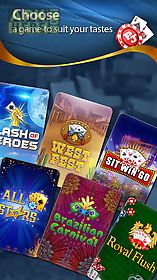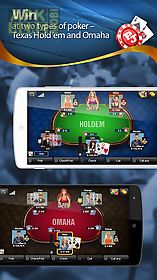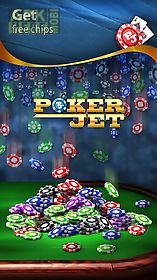 Poker jet: texas holdem game for android description: Enter the world of card games with poker jet!
Enjoy free poker in an elite casino.
All you need to become a poker game champion is a phone or tablet with internet pete online with real players from all over the world play texas holdem poker and omaha poker in a comfortable environment and swap gifts with your friends.
You can do all this with poker jet!
Advantages of our app: free access to all features of our casino games and mini games play poker online with real opponents two types of poker: texas holdem and omaha slot machine and other games amazing 3d graphicscard games are only for the brave and the bold!
Poker jet will let you prove your bravery in many different tournaments for both texas hold em and omaha players.
Choose the right card game for you!
Especially for you: free chips gifts and daily quests slots arcades and scratch cards swap poker for those who don t want to waitwhat is the difference between poker jet and other casino games? We offer many opportunities for new and experienced poker players alike.
Learn to play omaha and texas hold em poker online share a table with friends challenge master card game players at tournaments get support and feel the spirit of competition.
Show that you love poker games!
Are you ready to play omaha right now? Then welcome to poker jet!

Related Apps to Poker jet: texas holdem