Pocket command (for mcpe) for Android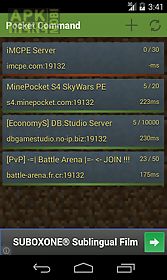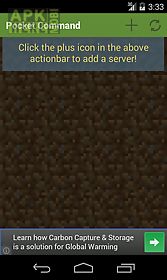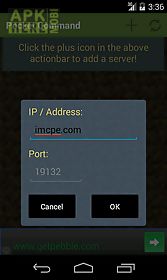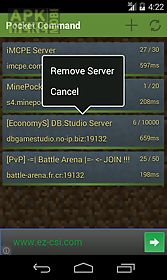 Pocket command (for mcpe) app for android description: Notice: this app is not an official minecraft product not approved by or associated with mojang get live information from your favorite mcpe servers before playing minecraft: pe!
Joining a server through this app automatically adds it to the top of your in game server list for faster join speed!
Have your favorite mcpe servers listed to show live: online offline status player count (current and max) server name ping (reduce lag problems by joining servers with lower pings.
) Server version names of online players server plugins and morewhen you 39 ve added some servers and find a server to join simply press join server and when minecraft launches click the top server in your in game server list!
If you don 39 t already have any servers to add or if you want to try another here are some good places to look: forums minecraft pocket edition mcpe multiplayer mcpe servers minecraftpocket pocketmine servers notice: this app is still in development this releases 39 focus was the functionality to list and join servers.
Upcoming updates will improve the graphical interface add more features and may change the interface appearance in order to improve appearance or usability.
Also ad placement may be experimented with but i will strive to keep annoyances to a ments and suggestions are welcomed!
Features coming soon!
Server discovery!
Looking for a quick way to find a new server to play on or is your usual server offline? We will fetch a list of healthy servers to choose from!
Re order the servers however you want.
Multiple app themes to choose from.

Related Apps to Pocket command (for mcpe)