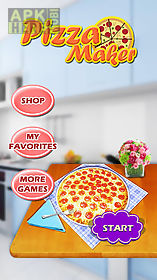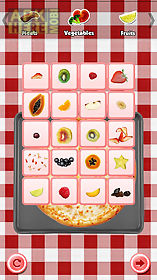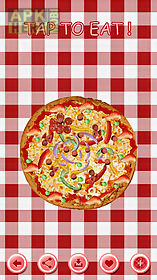 Pizza maker! game for android description: Whether you re having a fun friday night sleepover with your friends or you re just in the mood for some cheesy good food nothing s better than a warm topping filled pizza!
Don t call the pizza man!
Don t cook something frozen!
Make your own pizza in pizza maker!
This isn t your usual food decorating game.
The build and bake function takes you through the process of making a pizza so you get the full experience!
Tons of toppings mean you can create hundreds of combinations for endless pizza fun!
From tasty bacon to pepperoni and crisp bell peppers to onions there is something that everyone will like.
You can even eat your pizza and share it with your friends.
With a little practice you ll be the ultimate italian chef and a pizza master!
Product features: ultimate pizza cooking game!
Be an italian chef!
Easy to use controls to choose toppings bake and more!
Tons of toppings including your favorite meats and vegetables!
Build and bake your pizza like a pro!
Hundreds of combinations for all types of new and favorite pizzas!
Eat your creations and share them with friends!
How to play: use interactive controls to play the game.
Choose your favorite toppings to create the ultimate pizza.
Cook your pizza and enjoy!
Visit our official site at follow us on twitter at https: crazycatsgamelike us on facebook at https: crazy cats media inc 1510884179162522
Related Apps to Pizza maker!